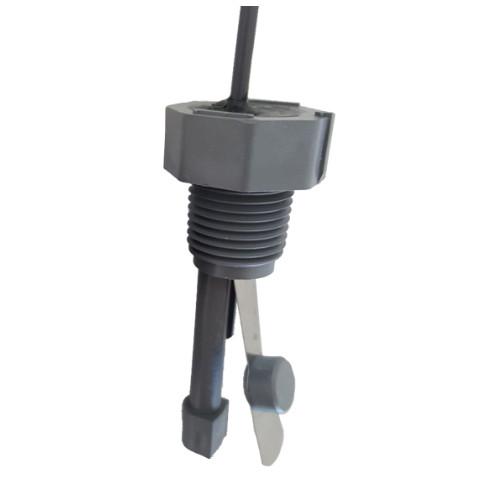 Flow switch Q-12 0.7 À 590GPM 1/2"mnpt
Flow Switch
Since the mid 1980's the Harwil Q-12 flow switch has been used by some of the largest companies in the Pool & Spa and fluid control industries. The Q-12 has several factory adjustable parameters that provide the flexibility to meet the requirements of almost any application. The Q-12 verifies fluid flow, typically in conjunction with another device. For example most of swimming pool salt chlorine generators use the Q-12 to verify sufficient flow before the generator is energized. In a spa or hot tub the Q-12 ensures sufficient flow to prevent the water heater from a meltdown. In a chiller the Q-12 prevents the system from freezing. At home the Q-12 turns on the water disinfection system when someone is getting a glass of water.
Max. flow may be five times normal flow.
Positive stop eliminates fatigue effects of turbulence, vibration and flow surge on flow detecting element.
Very low pressure drop – typically less than 1.0 psig at normal flow rate.
Small size and low profile provides easy mounting in crowded installations.
Power the driving coil of small ice cube relays as well as some 30A power relays.
Switches 5VDC to 240VAC.
Switch employs magnetic coupling.
Can be used in ¾ inch to 6 inch pipe.
Flow Range: 0.7–590 GPM (2.6–2,233 L/m)
Working Temp: 200˚F (93˚C) Maximum
Working Pressure: 250 psi (1.724 kPa)
Process Connection: 1/2″ NPT, 3/4″ NPT
Electrical (Reed) Switch: SPNO (single pole normally open) 0.5A*
Installation instructions01154992 Q-12N/2/10/NO/1 (PDF)
---
We Also Recommend
---